Castlemanor Grana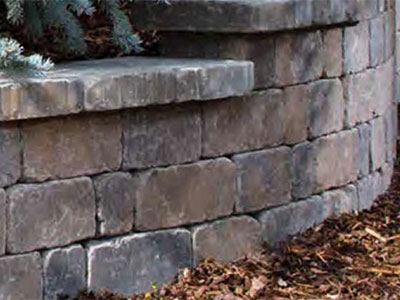 Classic Collection
Castle Manor® Wall exudes old world charm with its rustic finish and earth tone blends. Create intimate outdoor spaces with the privacy this charming and durable wall offers. It is also great for moderate height retaining walls to create terraces and more usable space in your landscape.




Specs
Unit 1

6 x 6/4 x 10

Unit 2

6 x 12/10 x 10

Unit 3

6 x 16/14 x 10

Grana Cap

3 x 12 x 10

Wall Pins

6" L x 3/8" D
approx. 35 pins
per sq. ft.

All measurements are approximate.
Contact your local Belgard dealer for details.
Colors

Colonial

Gascony Tan

Sandstone
Patterns
No pattern information is available for this product.

Contact Us
We truly love what we do, and we know you'll love the end result of your new outdoor living space! Contact us for a consultation and let us help you enjoy the outside of your home just as much as you do the inside.