Pool Decks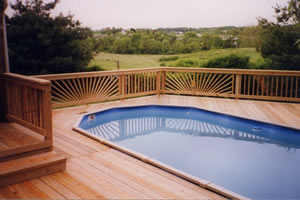 The pristine pool water can never stand on its own when talking about aesthetics and usability. Pools must have pool decks. But not just any decks—they must be aesthetically appealing, slip resistant, and can handle regular exposure to sun, pool water, and traffic.
Let us build and improve your pool deck to enhance your outdoor living experience. Fowler Outdoor Living, as our company name implies, is an expert in everything about South Carolina outdoors, including pools and their surrounding structures.
No-Problem Pool Decks
The Palmetto State is known for its sunny days. No wonder why pools for homes and even commercial spaces are quite popular. Perhaps, you have visited a few pools around the state and have acquired first-hand experiences about their pool decks.
Have you ever encountered some inconveniences while walking on decks on your bare feet? Perhaps, you have seen cracks, molds, dirty grouts, and slippery surfaces? All these problems will never happen with superior construction from Fowler Outdoor Living.
We provide professional design, installation, and maintenance of pool decks, making us the all-in-one authority for building such a landscape addition. We are also proud to be considered among the top-notch paving stone installers in the region.  Thanks to the years of dedicated service of our men who are well trained, certified, and well-experienced.
Materials for Pool Decks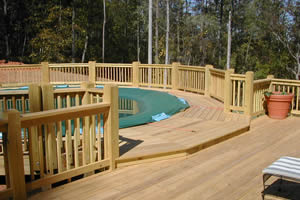 When it comes to materials, pool decks can be built with a variety of options. The most common is, perhaps, concrete due to its low-cost construction. Most concretes we know are grey colored, making them such boring scenes. But newer technologies have made them more exciting with more colors and stamp patterns to choose from. Just beware that concrete can crack and, typically, don't give the same special benefits that only pavers can provide.
Our company highly suggests pavers and for a lot of good reasons. First, pavers are fade resistant, which is highly necessary for keeping the curb appeal on an area that's always moist. These materials also create nonskid and non-slip surfaces, making them a lot safer to walk or even run on. Even maintenance is easy with paved pool decks. If a piece cracks, replacing it is as easy as putting a new one. And if you'll do the math, their price is almost the same as stamped concrete.
Unmatched Craftsmanship
The only concern with pavers is correct installation. That's why we're here. Our company has spent years in the business and has gained a lot of experiences with varying suppliers.
Our pavers come only from the best in the industry. Fowler Outdoor Living is proud to be affiliated with Belgard Hardscapes, Oldcastle, and Gloria Enterprises. These names are highly respected in the landscaping industry not only in South Carolina but all around the country. They don't just accept any installers or partners without passing their meticulous standard. It's our pleasure to be among their highly qualified installers.
So whether you need to improve your pool decks or want to build a new one, we are the company to call. No worries if you don't have any ideas about the design yet. We'll help you come up with the most flattering colors, shapes, and patterns that, when installed, will surely amaze you and everyone that will look at your deck.

Contact Us
We truly love what we do, and we know you'll love the end result of your new outdoor living space! Contact us for a consultation and let us help you enjoy the outside of your home just as much as you do the inside.