Waterfalls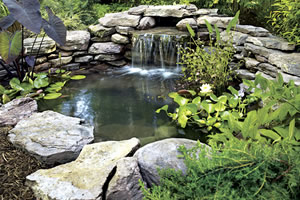 If you're planning your landscape, you want to be sure it has all the right elements and features. The overall aesthetic of your yard spaces depends on a number of factors such as- How well the spaces are demarcated, the plants and trees you choose and the features and materials installed. Making sure that all these aspects are incorporated in the right measure is about hiring a skilled and experienced landscaper for the job.
We at Fowler Outdoor Living are a leading company in this industry. Not only do we help with excellent outdoor living solutions but also handle planning of yard lighting, irrigation, outdoor kitchens, outdoor fireplaces and more. Adding water features is one of the best ways to make sure that your landscape has a well-balanced appearance.
We have been catering to clients in and around Greenville, Anderson, Greenwood, and Williamston for a number of years. Our stunning waterfall installations can be seen on properties in Spartanburg, Seneca, and Clemson too. We have also successfully completed a large number of water feature installation projects in Hartwell, Salem, Piedmont, and the surrounding areas. Our team of skilled professionals can cater to all your waterfall design and installation requirements.
Types of Waterfalls
A waterfall is a great addition to your landscape. The cascading water lends liveliness and freshness to the surroundings and becomes the perfect addition to your yard. Since every landscape is different, we focus on tailoring solutions for our clients. Our waterfall designs will be a reflection of your specific ideas and needs and will complement the appeal and styling of other installations in the landscape. The different types of outdoor waterfalls we can design include:
Formal styled with machine cut stone slabs
Rough cut natural stone waterfalls for a more rustic or casual landscape
Plunge waterfalls that are part of narrow streams
Ledge waterfalls that can be installed in poolscapes
Slide waterfalls that have a continuous contact with the bedrock
Sheet waterfalls that come from wider streams
We have the ability to create the kind of waterfall you need. For example, if you want a larger installation, our team will design a feature with multiple cascades or can make sure that the waterfall leads to a pool or pond with aquatic plants and fish. This type of settings adds a very quaint look to the surroundings.
Waterfall Designs and Plans
While the style and design of the waterfall is an important aspect of the project, we also focus on aspects such as:
Location of the feature
Size and style of the waterfall
Materials used in its construction
Your styling preferences and ideas
Your budget
Cost-Effective Waterfall Installation Solutions
We are methodical in our approach to every rock waterfall project. When you choose us for this job, you have the assurance that skilled and professional landscapers are handling the job. We can install water features as part of your landscape installation or upgrade project and will ensure it is planned perfectly down to the last detail. While we never compromise on the quality of our work, you will find our waterfall installation costs are very competitive.
For any more information about our services, feel free to call Fowler Outdoor Living at 864-444-1263. You can also contact us via this online form and we will respond quickly.

Contact Us
We truly love what we do, and we know you'll love the end result of your new outdoor living space! Contact us for a consultation and let us help you enjoy the outside of your home just as much as you do the inside.