Outdoor Fireplaces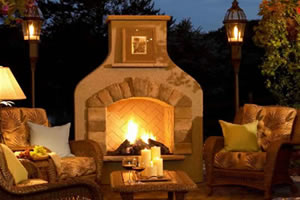 If you're a South Carolina property owner, then you probably realize the benefits that outdoor fireplaces provide.
Although an indoor fireplace would suffice most of the time, having one built outdoor can prove to be beneficial especially when you want or need to spend time with friends and family outside. Outdoor fireplaces are perfect add-ons for people who love to spend their leisure time just hanging out or holding certain outdoor activities with loved ones and acquaintances.
The state's hot summers and moderately cold winters are perfect for spending time outdoors. During summer, homeowners love to spend time outdoors to take in fresh air if only to combat the humid weather. At night, an outdoor fireplace provides the warmth that could make staying outdoors comfortable. Meanwhile, in winter, an outdoor fireplace could definitely make watching the night-time sky bearable.
Regardless of the reason you have for staying outside the confines of your home, outdoor fireplaces can nevertheless prove to be fine company.

Options for Outdoor Fireplaces
Unlike other landscaping elements, the choices for outdoor fireplaces only boil down to two major groups—custom built and pre-built.
Here are some of the differences between these two outdoor fireplace options:
Custom is pricey; pre-built is cheap. One of the biggest differences between these two options is the price. Custom outdoor fireplace normally commands premium price tag, while a pre-fabricated one is relatively cheaper. This is because custom outdoor fireplaces are done by expert masons and installers, while pre-built ones can be done via DIY fashion. Pre-fabricated fireplaces are by default more affordable than custom-made ones.
Pre-built is installed fast; custom ones take time. The beauty of pre-fabricated fireplaces for outdoor use is that they can be installed within just a few hours. It's like you're just assembling a starter Lego set. Meanwhile, custom fireplaces can take a few days to a week or two depending on its size and complexity. Much care and attention to details are also done to guarantee a durable, safe, and beautiful outdoor fireplace.
Custom offers personalization; pre-built makes do with existing designs. One of the reasons why custom-built outdoor fireplaces are pricey is because you can have practically any design and size that you want. Of course, this can only be possible with an expert mason working on your specifications. Meanwhile, pre-built fireplaces offer a rather limited range of options for you.
Building Stunning and Durable Outdoor Fireplaces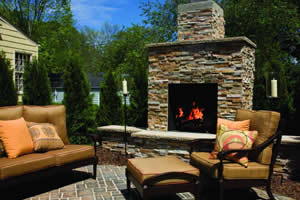 Whichever among these options for outdoor fireplaces is your pick, we can work on it just the same.
Our trained installers can install any size and type of outdoor fireplaces based on your preferences. For customized ones, we normally go for bricks and natural stones as our primary materials. These two particular materials are known to provide both elegance and durability, which is why many of our clients absolutely love them.
Meanwhile, if a pre-fabricated outdoor fireplace is what you want, we can offer you wonderful design and size options. No need to worry about the quality, since we only provide pre-made fireplaces from companies fully trusted in the industry like Belgard.
So take your pick and let us know of your choice. Contact us today and we'll make your dream outdoor fireplace a reality.

Contact Us
We truly love what we do, and we know you'll love the end result of your new outdoor living space! Contact us for a consultation and let us help you enjoy the outside of your home just as much as you do the inside.