Outdoor Living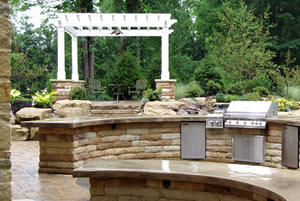 Your yard and garden give you ample opportunity to create spaces you can relax with family and friends. But creating comfortable and usable areas is a lot about making sure that you plan these spaces well. For instance, if you feel that you will be entertaining a lot or having a lot of weekend BBQs with your family, you may want to get an outdoor installation on your patio or get a fireplace added to the yard for extra comfort and warmth when there is a nip in the air. In short, outdoor living features add to the functionality of these outdoor spaces.
Fowler Outdoor Living provides excellent outdoor living solutions to customers in and around Greenville, Anderson, Greenwood, Williamston and Spartanburg. The company also handles projects for customers across Seneca, Clemson, Hartwell, Salem and Piedmont, SC. The different services they provide are:
Outdoor Kitchens
As mentioned earlier, an outdoor kitchen becomes the perfect setting to entertain and spend leisurely moments with your family and friends. These spaces can be made functional and appealing by installing the right kind of features and materials. You can get the kind of counters you want and get retaining walls with in-built seating. If you like you can make space for extra grills or a fireplace and fire pit etc. 
Outdoor Fireplace
An outdoor fireplace installation adds warmth and comfort to any outdoor feature like a patio or deck. It's a great addition to an outdoor kitchen and you can also get it installed in some other area of your yard. The fireplace can be as big or small as you want it to be and we can build it with the materials you like. It can be constructed using concrete, brick or natural stone. If you like, the concrete installation can be clad with natural stone or brick veneer or can have a stucco finish too.
Fire Pits
If you feel you want a simpler fire feature or if you don't have enough space for a full-scale fireplace, you can opt for a fire pit. This element can fit in perfectly in a nook in your yard or you can choose to get it installed on your deck or patio too. These installations can be built using concrete, brick or natural stone. If you like, we can also add a grill to the fire pit and you can use it as a cooking source.
Patios
A patio is a great addition to your yard and it's an excellent way to extend the livable areas of your home. In fact, many people also like to get an outdoor kitchen or a pergola installed on their patio and it becomes the perfect place to entertain guests and spend some fun moments with your family. Choose weather-resistant materials for the structure and ensure that its planned in detail and installed well.
Having a great-looking landscape is never a matter of chance. It takes a great deal of expertise, experience and creativity to provide solutions that work perfectly for you. This is why it's important to hire experts like the ones at Fowler Outdoor Living to handle your outdoor living requirements.

Contact Us
We truly love what we do, and we know you'll love the end result of your new outdoor living space! Contact us for a consultation and let us help you enjoy the outside of your home just as much as you do the inside.