Plant & Flower Install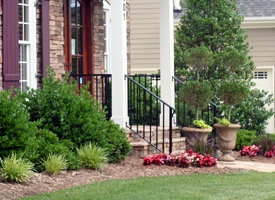 A lush, magnificent landscape is a dream any South Carolina home owner would love to have. Having green, manicured lawns, where you and your kids can play, or trees that provide shade during hot summer days, or a garden that blooms the whole year round is just some of the wishes of most homeowners.
At Fowler Outdoor Living, we can turn that dream into a reality. We know that a well-planned landscape can beat South Carolina's humid weather, which is susceptible to droughts. Our expert horticulturists know the right kinds of plants and trees that are suitable for your landscape, taking into consideration the size of your area, the soil condition, the existing flora and fauna, and the architectural design of your home. All of these tasks are included in our plant and tree installation services.
Plant Installation
South Carolina's soil tends to be acidic, so we make sure that the soil has the correct pH by adding vital elements, such as fertilizer and lime. Only then do we proceed with the plant installation.
The two basic plant types that we recommend to our clients are:
Perennials. Perennials are plants that thrive for more than a year. They come in different sizes, colors, and blooming times, which account for their versatility, especially in humid climates. These plants provide rich, colorful textures all year round to your landscape. Examples are:
Flowering perennials

Swamp Lily
Solomon's Seal
Virginia Saltmarsh Mallow

Ferns

Northern or Common Maidenhair
Lady Fern
Hay-scented Fern

Hostas

Plantain Lily
Sum  and Substance
Annuals. As opposed to the perennials, annuals only have a life span of one year. However, their fantastic beauty and colors add excitement to any landscape. This plant variety includes:
Moonflower
Silk flower
Snap Dragon
Black-Eyed Susan
Installed strategically, these plants can enhance the beauty of your landscape. But at Fowler Outdoor Living, we don't just do plant installation, we also ensure that they will grow healthy with proper land preparation and care.
Tree Installation
Nothing can beat a tree's beauty and understated elegance. More than that, home and property owners opt for tree installation due to its welcoming shade, numerous health benefits, ability to reduce pollution, as well as ability to prevent soil erosion.
To achieve a dramatic effect, a well-planned tree installation is required. Some of the trees that can add color to your landscape include Bald cypress, Chestnut Oak, American Linden, and Laurel Oak. If you want smaller trees, we can plant Kwanzan Cherry, Flowering Dogwood, Japanese maple, and Sweetbay.
Shrubs for More Color
Shrubs add a different level of perspective to a landscape. When carefully selected, shrubs can harmonize the overall look of your landscape. The common choices are evergreen shrubs, like Holly, Boxwood and Camelia. For added variety and color in the plant installation, we can include deciduous shrubs, like Witch Hazel, Hydrangea and Spice Box
Fulfilling Your Dream Landscape is Our Passion
Nothing gives us more satisfaction than fulfilling your dream for you. We have already transformed many landscapes in Salem, Seneca, Greenville, and Anderson with our plant and tree installation services. It's time to let your landscape undergo the same transformation.

Contact Us
We truly love what we do, and we know you'll love the end result of your new outdoor living space! Contact us for a consultation and let us help you enjoy the outside of your home just as much as you do the inside.