Walkways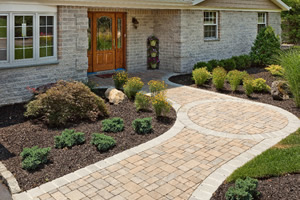 When trying to improve outdoors, most people disregard adding walkways to their properties. They are often focused on adding an outdoor kitchen, a patio, or a pool. However, once all these are installed, there will be a seeming separation among them.
This element provides an important function in the landscape. A walkway from the entrance to the outdoor kitchen, or from the patio to the pool, will create an instant connection. But that's not the only logical purpose of it, as it also enhances the overall curb appeal of the property by welcoming guests to a hard red carpet.
And with walkways, walking from one area to another will be more interesting, and it will definitely make your landscape a better place for rendezvous.
Where to Install Walkways?
Walkways need to be strategically located. As mentioned, they connect areas of an outdoor. They even add more possibilities to impress guests with your well-tamed landscape. So there must be a walkway from the entrance to the patio or the porch.  It must also guide the visitors to other areas in the landscape, like the pool and the garden. You can also consider having one in the parking lot or a walkway from both sides of the driveway.
The rule of thumb is to have a walkway that will lead to all interesting spots of the outdoors.
Perfect Type of Walkways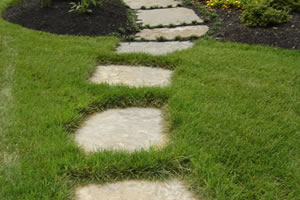 Walkways don't just give a sense of direction. They are too large to be missed, making them great structures for showing off your style. And speaking of style, their overall design can also vary depending on your taste.
Generally, you'll have to choose between straight and curvy. A straight walkway tends to use lesser materials and is easier to build. Although a bit costlier, a curvy walkway can create a visual interest and is great both for short and long walks.
The design should also consider how far a guest has to walk to reach the destination. If it's too far, we suggest breaking it by creating a landing space, like a bench after a 10-meter walk from the entrance or a few flowering plants along the way.
Another factor that can create a stunning walkway is the material used. While concrete slab is good, it usually creates a stiff appearance that tends to be boring. Our highest recommendation goes to paver stones since they're made specifically for hardscapes, like a walkway. Slates, for instance, are good when installing on a grass-filled surface, while brick pavers are better for more intimate walkways on pebble-covered surfaces.
Pavers also come in variety of colors, shapes, and sizes, and they can be installed in any pattern that will virtually create any type of line—be it curve, straight, or even zigzag.
Creating Durable Pathways for your Landscape
Like any element of a landscape, walkways must be built with durability in mind. Using pavers satisfy half of the durability requirement. The other half lies heavily with the craftsmanship. And that's something that Fowler Outdoor Living has.
We have installed countless walkways around South Carolina. All these can attest to the quality of our work. Our men are also skilled, certified, and experienced in installing walkway pavers. We follow a fool-proof procedure that leads to building top-quality structures. Call us now for a free estimate and consultation.

Contact Us
We truly love what we do, and we know you'll love the end result of your new outdoor living space! Contact us for a consultation and let us help you enjoy the outside of your home just as much as you do the inside.