Driveways
Driveways are primarily designed for vehicular traffic. However, their function is not only limited to this purpose. In fact, they can be used for outdoor activities as a play area for the kids and for other similar activities. Because of these, more homeowners prefer to have a driveway that is not only durable but also built gorgeously.
The Right Driveway Materials
Driveways can be constructed using different materials. The final choice will depend on your budget, your preferences, and the size or length of the driveway to be installed.
At Fowler Outdoor Living, we build durable driveways to ensure they can last a lifetime with minimal maintenance and repair needed.
Below are some of the common and popular driveway materials.
Asphalt.  This is one of the most common materials used for driveways mainly because it is cheaper to install and can withstand heavy vehicular traffic. However, the drawback of using asphalt is its susceptibility to discoloration, cracking, and chipping. It may also require periodic maintenance, thus becoming costly in the long run.
Concrete. This is another common material used for driveways. Concrete can cost a little higher than asphalt but it gives you more design options. But, just like asphalt, concrete slabs are prone to cracking, which could affect the performance and look of your driveway.
Interlocking Pavers. Pavers can be bricks, concrete, or natural stones. The good thing about pavers is that you have the flexibility when it comes to design. They are available in different colors, sizes, textures, and patterns that when creatively installed will result to stunning driveways.
Among these choices, we highly recommend the use of interlocking concrete pavers. Aside from their versatility, these pavers are proven to withstand heavy traffic and harsh elements such as extreme weather conditions, stains, and the like.
Driveway Design Ideas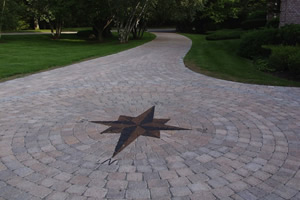 Our team will ensure that you will be getting the right design for your driveway that will also complement your landscape theme.
Some of the designs that we already created for most of our South Carolina clients are straight, circular, and curved driveways. Here are some ideas as to when and where to use these designs:
Straight Design – We recommend the straight driveway design if your home is near the road. This is also best for homeowners with a small yard or property. But working on a short driveway will not limit our creativity. We can still create a beautifully designed driveway for small areas.
Circular Design – This type of driveway design is best for clients who want to highlight elegance in their property. A circular driveway is usually accentuated with a fountain. We recommend this driveway design to those with large front yard.
Curved Design – This is the best option if you want to maximize the use of your area.  Other elements in the landscape can be also highlighted using this driveway design.
Deciding which material and design to use in your driveway can be time consuming, but don't worry.
At Fowler Outdoor Living, we will take charge of the planning, design, and installation to ensure you will be getting functional and aesthetically pleasing driveways. We have the right materials, experienced manpower, and appropriate tools and equipment to complete the job. Call us now.

Contact Us
We truly love what we do, and we know you'll love the end result of your new outdoor living space! Contact us for a consultation and let us help you enjoy the outside of your home just as much as you do the inside.