Outdoor Kitchens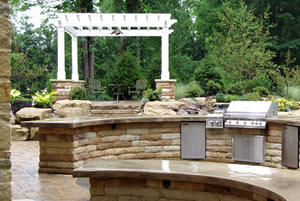 Adding an outdoor kitchen is a good way of improving your outdoor living. As it is, outdoor kitchens have become popular nowadays because they do not only add beauty and functionality to your outdoor area, but also improve family bonding.
If you're still missing the benefits of an outdoor kitchen at home, now is the perfect time for you to have one.
Call us at Fowler Outdoor Living. We will build an outdoor kitchen that will not only allow you to cook sumptuous meals, but will also become a favorite area outdoors.
Things to Consider in Building Outdoor Kitchens
Before building your outdoor kitchen, there are various factors to consider, which include:
Location – If you have a deck or patio at home, your set-up cost for your outdoor kitchen will be less. However, you must remember that you should consider consulting the experts when setting up outdoor kitchens on existing deck or patio to check the durability of the structure. It would also be a good idea to consider setting up your outdoor kitchen near your indoor kitchen. This will save you time when going to and from the indoor and outdoor kitchen.
Inclusions – When setting up your outdoor kitchen, you should consider the needed appliances and amenities to make it fully functional. Some of the important things you should consider adding include a grill, a counter top, and refrigerator or a chiller. You can also add other items like kitchen cabinets with plates, cups, saucers, condiments, cutlery, and the like to have practically everything you need to save time and energy.
Design and materials to use – Another thing you need to consider when building your outdoor kitchen is the design and the materials to use. Stone is the most preferred material for outdoor kitchens because it is sturdy, can withstand harsh weather conditions, and easy to clean. Meanwhile, the sink and other kitchen utensils must be made of stainless steel to avoid having them rust over time. Other important considerations when installing an outdoor kitchen is the type of utilities. You can choose from gas or electric. There should be ample supply of water, too.
DIY or hire a professional – Even though it would be nice to do it yourself, hiring a contractor will definitely give your outdoor kitchens the professional look. They will also ensure that your kitchen will be made to last and will look attractive. 
Choosing the Right Kitchen Contractor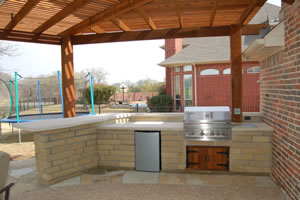 The planning, design and construction of this outdoor living space is not easy. It must be handled by professionals like us.
Accordingly, there are many reasons why you should choose Fowler Outdoor Living for your outdoor kitchen construction needs. For one, we have expert masons who can build your outdoor kitchens with outstanding results. We also use only the best materials to ensure that the structure will last longer and look better. With the expertise and experience, you can surely get an outdoor kitchen that your neighbors will envy.
Take advantage of our free estimates and consultation. If you are from Anderson, Greenville, Seneca, Clemson, or Salem in South Carolina, give us a call now and let us build your dream outdoor kitchen.

Contact Us
We truly love what we do, and we know you'll love the end result of your new outdoor living space! Contact us for a consultation and let us help you enjoy the outside of your home just as much as you do the inside.