Landscape & Hardscape Services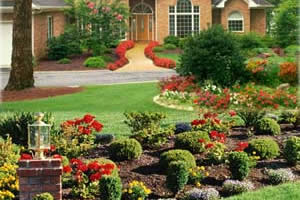 Fowler Outdoor Living is a premier company in the outdoor living and hardscaping industry. Not only do we help to provide exceptional outdoor living solutions, but also handle start-to-end design and installation of various hardscaping and landscaping features.
We provide hardscaping services in Greenville, SC and the surrounding areas. Upstate, SC is truly a beautiful part of the country and we love helping to enhance the design and functionality of your yard that compliments it's surroundings.
No matter the goal for your outdoor living space, our team has the ability to create the yard of your dreams. We offer a wide variety of services such as:
Landscape Design
Our team has the ability to take what your hopes are for your outdoor space and make it a reality. We take the time to truly understand what you're hoping to accomplish in your outdoor living space, review your current landscape, and develop a unique design perfect for your yard. Not only can we help you envision your new outdoor living space, but our team will also develop actual renderings of what it will look like. We'll take into consideration the layout, functionality, budget and even any necessary landscaping to design an outdoor living space you'll love! See some of our landscape designs > >
Hardscapes Services
We can design and install various outdoor features such as paver patios and walkways, outdoor kitchens and retaining walls. Hardscapes are the foundation of any landscape and it's important that these be installed with expertise, using the best quality materials and products. With the vast experience that we have in this industry, you can rest assured that every hardscape installation we handle for you will be top-of-the-line. All of these features will be designed to meet your specific preferences and design theme of your landscape. We also focus on the little details and provide excellent finishing touches such as step landings, curbing, natural stone edging and coping etc. Read More About Hardscapes Services >>
Patios & Pergolas
A patio or Pergola is a great addition to any property. Not only does it improve the usability of your yard, but also increases the value of your house. Since this is a transitional feature between the indoor and outdoor areas of your home, it's important to make sure the styling complements both spaces. We focus on providing top-quality customized patio installation services to our clients. While some of our clients prefer open patios, others choose to have a screened feature or pergola roof installed. Read More About Patios & Pergolas >>
Outdoor Fireplaces
Today, there are a large number of outdoor fireplace options and materials to choose from. This feature can fit in beautifully into small or large yard spaces. We can design and install these elements in any area of your patio, deck or yard. Depending on your requirement, we can use use pre-built fireplace features or custom design one exactly to your liking. We love to design fireplaces that compliment your landscaping. An outdoor fireplace will help increase the beauty, functionality, and value of your property. We use only the best materials, ensuring the longevity of your outdoor fireplace. Read More About Outdoor Fireplaces >>
Outdoor Kitchens
If you enjoy entertaining or are an avid home cook, you will love having an outdoor kitchen. Since this feature would be partly exposed to the elements, we take great care to use only weather-resistant materials. The countertops, seating spaces and storage areas will be planned to perfection. We will design your outdoor kitchen for maximum functionality based on your specific needs. Paver stones would be installed on the flooring and we can also design and install fire features as required. Read More About Outdoor Kitchens >>
Pool Decks
A pool deck needs to be designed and installed with care. This feature is exposed to the elements and has to endure exposure to chlorine or salt water as well. When we design and install your pool deck, you can rest assured that it would be stunning in appearance and unique in design. We offer a variety of different kinds of colored concrete or even paver stones. We recommend the use of pavers for pool decks because these are extremely resilient, low maintenance, durable and aesthetically appealing products. It is possible to create different patterns and designs on the pool deck using paver stones made of brick, natural stone or concrete. Read More About Pool Decks >>
Retaining Walls
Retaining walls are specially designed to provide support and stability to the landscape. We use modular concrete blocks in building these walls. Our team has the expertise to design and construct retaining walls that will provide your landscape the support it requires. These installations also help prevent soil erosion. If necessary, we can include features such as planter spaces and inbuilt seating in the walls which improves their functionality. Since we custom-design these walls for each client, your retaining wall design and styling will compliment the overall aesthetic of your landscaping. Read More About Retaining Walls >>
Driveways
Driveways are very hardy features that have to endure foot and vehicular traffic. This makes it important to use good quality construction materials in the installation. We have vast experience in designing and installing all types of driveways. You can choose from materials such as asphalt, concrete, interlocking pavers etc. We create a completely customized to suit your style and patterns you prefer. A beautiful driveway will greatly enhance your home's curb appeal and value. Read More About Driveways >>
Walkways
Walkways are an essential aspect of any landscape. Well-designed, well-planned walkways help connect different areas of your gardens and yards. This allows you to navigate the outdoor spaces without trampling over lawns, flower beds etc. For example, it's a good idea to install a walkway leading out from your patio into different areas of the garden. If you have a poolscape, you would need walkways leading from the house to that area. Many clients also prefer to get these installed from the side of their driveways into their landscaping. When we are designing this feature, care will be taken to ensure that it matches the design and styling of your driveway and other features in the landscape. Read More About Walkways >>
Sod and Mulch Installation
Many property owners prefer sod lawns on their property. Sod is available either in squares or rolls and the installation is easy. Since it is pre-grown grass, it has a certain amount of resilience and can settle in better into your landscape. This type of grass is more resistant to weeds and you can start using the space almost immediately after installation. Our company provides excellent mulch installation services to our clients. We provide a variety of mulches based on your specific color and design needs and can deliver and install these in your landscape. We use the best quality mulches ensuring that the moisture content in the ground is maintained well. Read More About Sod and Mulch Installation >>
Irrigation and Repair
Irrigation is a very important aspect of any landscape. Regardless of how big or small your landscape is, and the number of plantings or lawn installations that it has, you need the right irrigation system. We provide custom designed solutions and handle all types of irrigation installations such as micro-irrigation systems, flood systems, rotary sprinklers, spray irrigation systems and more. In addition, we also handle irrigation repair works for our clients as needed. Our team works with you to ensure that you understand what your irrigation requirements are. Based on the different plants, trees, and lawns that you have in your landscape, we will design the perfect irrigation system for you. Read More About Irrigation and Repair >>
Landscape Lighting
Outdoor lighting is a very important aspect of any landscape design and plan. Regardless of how beautiful the rest of the features in your landscape are, only the right kind of illumination can showcase them in the best possible way. We are the experts that can provide you custom landscape lighting solutions. Our team works with you to create stunning lighting effects in your landscape using fixtures such as path lights, paver lights, step lights, and floodlights. We use a range of lighting concepts such as downlighting, uplighting, diffused lighting as well as recessed and concealed lighting to create a stunning effect in your landscape. Read More About Landscape Lighting >>
Ponds and Waterfalls
A water feature is a great addition to any outdoor space. Not only does it add a lot of freshness to the surroundings, but is also extremely pleasing to the eyes and ears as well. We provide customized pond and waterfall design and installation solutions to our clients. Our creative team of landscapers can design everything ranging from casual-styled waterfalls to exotic and formal-styled ponds. If you want a Koi pond on your property, we can design and install that too. Some of the other types of water features that we can install include sheet waterfalls, slide waterfalls, ledge waterfalls, and natural ponds. Read More About Ponds and Waterfalls >>
Plant and Tree installation
As expert landscapers and arborists, we are able to help you with all types of tree and plant installation jobs. Since we are local to the region and have vast knowledge about native plant life, we can provide you with the best recommendations about the different types of trees and shrubs that would be perfect for your landscape. We ensure that the plantings would be water-efficient, ensuring the sustainability of the outdoor spaces on your property. You can choose from a variety of plants and trees such as perennials, annuals as well as flowering shrubs and bushes. We source all these plants and trees from the best nurseries ensuring they are resilient and strong. Read More About Plant and Tree installation >>
For any more information about our hardscaping or landscaping services, feel free to call us at 864-444-1263 or contact us via this online form and we will respond quickly.

Contact Us
We truly love what we do, and we know you'll love the end result of your new outdoor living space! Contact us for a consultation and let us help you enjoy the outside of your home just as much as you do the inside.